Monday, September 13, 2010
Posted by David Tucker in "Android News" @ 01:41 AM
"Now that T-Mobile's got its G2 slider out in the open, the cosmic universe reckons it's time to look towards the next HSPA+ device -- and the next iteration of the Android-laden myTouch series. We've seen alleged pics of the myTouch HD before, and now TmoNews has what it claims is an internal document from the carrier boasting some of the key features of the device."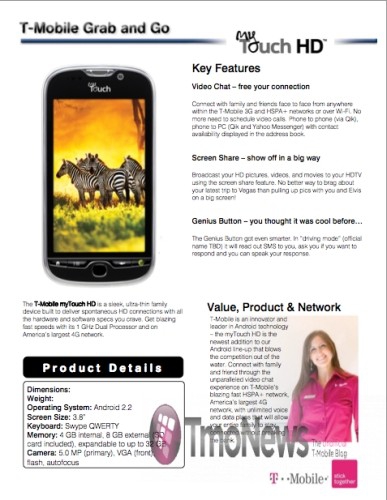 Nothing like a juicy, unconfirmed rumor to start off the week with. Engadget picked this up from TmoNews and I'd like to think the details are true. I just picked up the myTouch Slide and I love the phone. If the HD is coming as its been described, it sounds like a worthwhile competitor to the Samsung Galaxy. Since the myTouch Slide has a derivative of SenseUI on it, I would definitely go for something like this!
With specs listed such as likely a dual-core processor and HSPA+ support, it sounds like a nice high end addition to T-Mobile's lineup.
---