Tuesday, October 11, 2011
Posted by Craig Horlacher in "Android News" @ 11:00 AM
"The 4G-capable myTouch and myTouch Q are everything the leaks indicated, with the former sporting a 3.8-inch touch screen and the latter coming home with a 3.5-inch screen (no word on the display tech used in either one) and landscape sliding QWERTY keyboard."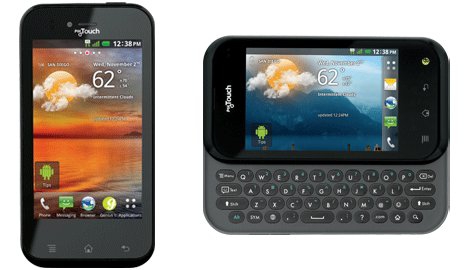 T-Mobile has two new entry level Android phones on the way. They have special features to simplify their use and teach you how to use them. Both seem to be reasonable devices with a 1GHz CPU, 512MB of RAM, 5MP camera that does 720p video, and Android 2.3 (Gingerbread). The myTouch has a front facing camera. The myTouch Q has a slide-out landscape orientation qwerty keyboard. Both phones are 4G capable.
I'd have a hard time recommending the myTouch Q since it only has a 3.5" screen. The myTouch is better off with a 3.8" screen. It's a shame that both phones seem to have a lot of wasted space at the top and the bottom when holding them in portrait orientation. I guess they could be just the thing for someone looking for an Android phone on a tight budget. Let us know what you think!
---