Tuesday, May 15, 2012
Posted by Michael Knutson in "Other Slates & Tablets" @ 11:30 AM
"When we review a second-generation product there are certain things we tend to take for granted: this new thing, whatever it is, will be thinner, faster, longer-lasting, maybe even with more bells and whistles in tow."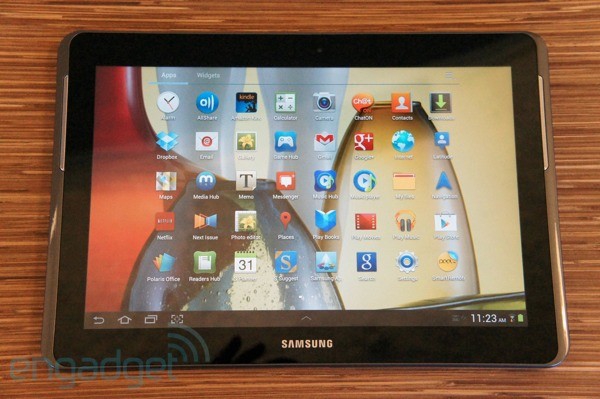 It seems that cheaper isn't always better for the consumer. Samsung has taken their original Galaxy Tab 10.1 and released a "refresh" that is nearly identical, but in some cases have downgraded peformance. But it's cheaper, so it's now competing at the $400 price point with many other tablets (Surprise, Samsung - everybody lowered their prices!). Rather than progressing with design and performance, Samsung took the safe route, and kept to the middle of the road = minimal change. Compromises have been made.
Still sporting a quality 1280x800 display, Samsung has moved the speakers from underneath of the front side, eliminating the muffle effect when lying flat, but they're still buzzy at high volume. Performance lags its Tegra 3 competition, and the user experience is less-than-thrilling, as the OS suffers inexplicable lags and stutters, and the screen becomes unresponsive at times. Battery life comes in at about 9-hours in real life, oddly almost an hour less than the original galaxy Tab 10.1. Apps are pretty standard, on top of ICS 4.0.3 and Samsung's TouchWiz UI-layer. The onboard cameras are pretty dismal, even by tablet standards.
Overall, Samsung has produced an upgrade (or refresh) destined to get lost in the market shuffle of $400 tablets. Really nothing to recommend it over any other tablet in this price range, and there are better choices. Disappointing.
---