Tuesday, November 23, 2010
Posted by Don Tolson in "Android Articles, Resources & Developer" @ 08:00 AM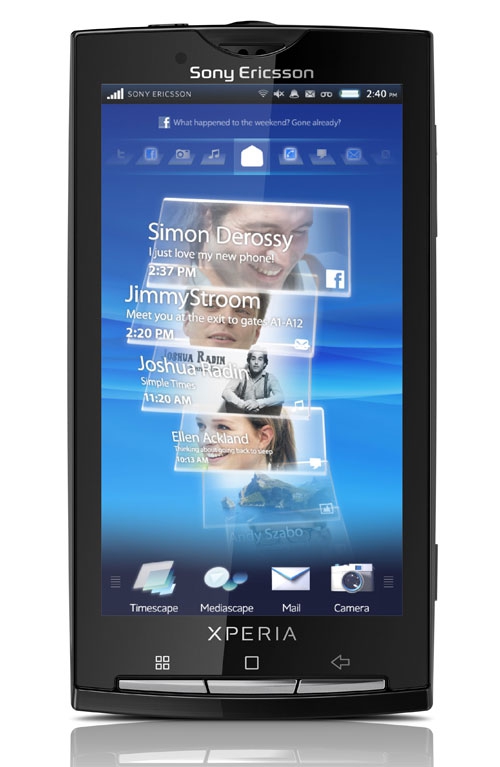 Product Category: Android Smartphone (non-keyboard)
Where to Buy: Expansys [affiliate] (unit tested is from Rogers in Canada)
Price: $499.95USD for an unlocked version.
System Requirements: Currently running Android v1.6. (2.1 upgrade is due by Dec. 2010)
Specifications: CPU - Qualcomm 8250 Snapdragon @ 1Ghz; Battery - 1500 mAh; Display - 4 in. (10.2 cm) 480x854 pixel TFT Capacitive touch 65K colours; Memory - 1G storage, 384M RAM, MicroSD card; Camera - 8mp, 16x zoom (digital), LED photo light; 802.11b/g; Quad-band GPRS; BT 2.1; 3.5mm audio; Accelerometer; Proximity Sensor; MicroUSB charging/sync connector; 119mm (4.7in) x 63mm (2.48in) x 13mm (0.51in); 135g (4.8oz).
Pros:
Big, bright screen;
Radios (cellular, BT, WiFi, and GPS) are very sensitive, very stable;
Rogers' version comes with a massive 16G microSD card.
Cons:
Volume is adequate, but lacks 'range';
Curious intraction between BT and GPS;
Way behind in Android updates -- still only at v1.6.
Summary:
The XPeria X10 from Sony Ericsson was big news about 6 or 7 months ago, and it's still the phone Rogers (here in Canada) touts as its 'high end' Android-based smartphone. We see new smartphones being introduced almost daily, especially in the Android space, so how does the X10 fare against the current crop of phones? And with the recent announcement of Windows Phone 7, how does it compare?
Introduction
Ever since my first integrated phone running Pocket PC Phone Edition, I've used Windows Mobile phones almost exclusively. (I did have a RAZR for a while, but quickly dropped that as soon as touch-screen capable phones were available). Then, with the launch of the Google Android phone, I've been wanting to take one out for a bit of a test drive to take a close-up look at the Android O/S and see if there really were any major differences in the interface. Well, the opportunity presented itself a month or so ago when I came to the end of a 3-year commitment on my current batch of cell phones with Rogers. (Yes, I guess I could have bought an unlocked phone and stuck in the SIM card, but since the contract was coming up, I thought I'd wait to see if I could get one cheaper from the provider.) I was able to re-negotiate my service package and upgrade both my son and myself to Rogers' high-end Android phone, the Xperia X10 for about $150 (CAD) When we asked, the salesmen (at numerous stores) assured us it was running Android 2.1, and that an upgrade to 2.2 was imminent 'in the next month or so'. Unfortunately, our fears regarding the technical knowledge of the staff at the stores was borne out. When I picked up the phone, I immediately checked it and found it was still running 1.6.:-( I checked in the Sony Ericsson user forums and it appears S-E just got their package for 2.1 a month or so ago and is working on the upgrade. They hope to have it done by the end of October, which means Rogers will probably roll it out sometime in November or December. (No word from S-E on a 2.2 or even 2.3 upgrade) Oh well....
[Update] -- Nov. 15th -- I'm just downloading the 2.1 upgrade from Rogers/SE now (very slowwwwwlllllyyy), so I'll add a bit later as to how it looks.
What Comes in the Package
It looks like the packaging provided by Rogers is direct from Sony Ericsson, as there doesn't appear to be any additional branding applied anywhere (including on the phone itself). Most of what is included is what you'd expect to find. I was surprised, however, not to find the usual CD of PC-based sync software and user manuals. Maybe that's normal now for Android phones.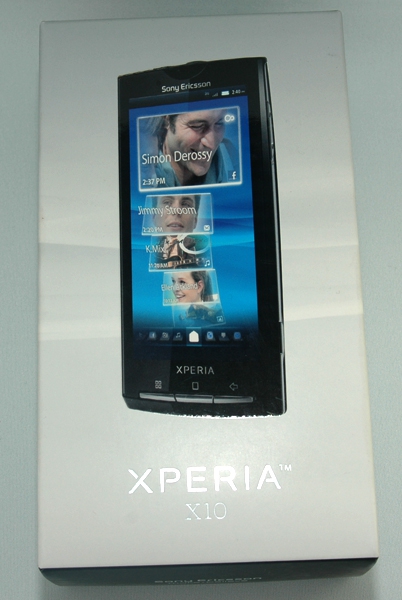 Figure 1: A shot of the box the XPeria X10 comes in. Very clean lines while trying to bridge the gap between consumer and professional presentation.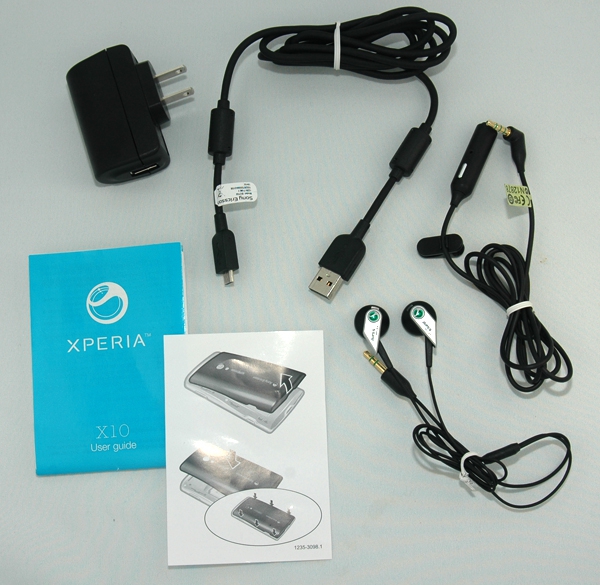 Figure 2: The contents of the X10 package. Clockwise from the top left, it includes a wall adapter with a USB outlet; a USB to microUSB charging/synchronization cable; a microphone extension cable for the earbuds with a 3.5mm plug; good quality "bass reflex" earbuds, again with a 3.5mm stereo phone plug; a quick start guide of how to remove the back to install the SIM card, microSD card, and battery; and a fold out User Guide on a single piece of paper (in very small print).
---