Monday, March 14, 2011
Posted by Kevin Jackson in "Android Software" @ 09:00 AM
http://androinica.com/2011/03/angry...mazon-app-stor/
"Angry Birds Rio is coming to Android soon, but not the Android Market. The next installment of one of the best Android games will launch exclusively in the Amazon Appstore . . . . Exactly when that launch takes place is unknown. Amazon says only that the Amazon Appstore will open "very soon." Considering that the Angry Birds Rio animated movie hits theaters April 15, I'm guessing early April would be great for a movie tie-in promotion."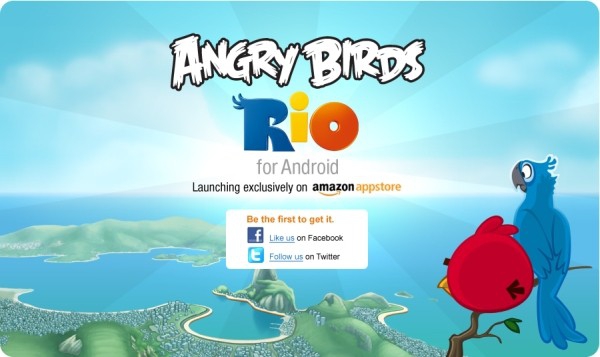 This is quite a coup for the Amazon Appstore. Angry Birds is one of the most popular apps out there, with over 100 million downloads on all platforms and 30 million on Android, alone. This also hints at a possible release date for the Appstore itself, which has been a source of speculation for some weeks now.
According to an update to the linked article, it looks like we'll also be seeing paid versions of the original Angry Birds and Angry Birds Seasons in addition to the new Rio edition, all exclusive to the Appstore. Does this mean that Android users will finally have access to the Mighty Eagle enhancement, as well? It will be interesting to see what the conversion rate is for users switching to the paid version of the currently free, ad-support versions of the first two games.
So, two bits of exciting news here; a new Angry Birds app and the Amazon Appstore launching soon. Are you excited about this? What will a competitor to the Android Market mean for Android users? Is this proof of the fragmentation of the Android world, or proof of its openness? Will you hardcore Angry Birds users be updating to the paid version of the app? Let us know at the "Discuss" link.
UPDATE: An
update
on Rovio's Twitter account says that the Rio edition will be launching on March 22nd. It looks like we won't have much longer to wait for the Amazon Appstore.
---