Wednesday, March 30, 2011
Posted by Kevin Jackson in "Android Software" @ 12:00 PM
"Firefox Mobile's main goal is to eliminate the amount of typing you do on your tiny smartphone keyboard. It eases your browsing experience by adding tabs, one-touch bookmarking, and auto-hiding browser controls. You can also easily access your history, bookmarks, and open tabs from the address bar-just like in Firefox 4 on the desktop, as well as access custom search engines and one-tap sharing features."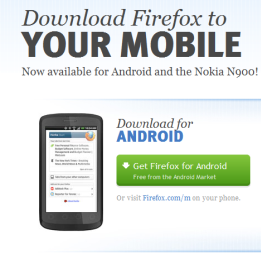 Firefox Mobile 4 is now available in all of its glory for your Android device. One of the features that I really like that it brings to the table is tab syncing. Any tabs you have open on any of your computers which are connected to your sync server account are available on any device -- including your Android phone or tablet -- where you have Firefox installed.
Firefox is a great alternative to the built-in browser and has become my browser of choice on my Streak 7. It's fast, has all of the great features you love in the desktop version, including the aforementioned syncing, tabs, and plug-ins, and it's free for the downloading. One thing not yet supported is Flash, but HTML5 support is fully implemented and works great.
What is your Android browser of choice? Are a fan of the built-in browser or has Firefox, Opera, or Dolphin captured your attention? Let us know in the forums.
---