Monday, February 27, 2012
Posted by Craig Horlacher in "Android News" @ 12:00 PM
"Today at Mobile World Congress, HTC announced the new HTC One series, which represent the most premium mobile experience with a new level of iconic design and a new amazing camera and authentic sound experience."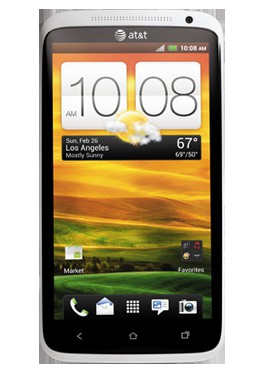 HTC has announced three new phones that are part of their new, high-end, One series of devices. The HTC One X (Picture above) has a 4.7", HD (720p, 720x1280), SuperLCD, 1GB of RAM, 16GB of storage and either a dual-core 1.5GHz Snapdragon S4 or a quad-core Tegra 3. The HTC One S is the thin model at 7.9mm. It has a dual-core 1.5GHz Snapdragon S4 and a 4.3", qHD (540x960), AMOLED display. The HTC One V is the low-end of these high end devices apparently. HTC calls it "pocket friendly" and says it's designed to "provide a high-end smartphone experience for a broad appeal" so I guess that means really good low end. We don't really have technical details but I'm going to guess the screen is WVGA (480x800) with maybe a 4" diagonal. The HTC One X and S both have new and improved camera technology as well as Beats audio. I didn't care about Beats a few weeks ago but a friend got a pair of Beats headphones and I was truly amazed! I'd love to see other companies start paying more attention to the camera and the audio on the devices they release. I'm glad to see HTC upping the bar in those areas!
These are some nice devices but I still think HTC needs to work on their battery life. Motorola has started going huge with the RAZR Maxx at 3300mAH and the Atrix 3 announced with a 3300mAH battery as well. I think this should be standard for anything that's dual-core (or more) these days and supports LTE. That may not be needed once we hit third quarter and they start shrinking the die sizes of the processors but for now, I think the 1800mAH battery on the HTC One X is inadequate. I don't know the battery capacity of the S or the V but I'll bet they're smaller.
I'd love to hear your thoughts on these new devices or battery life on high-end devices. How about Rezound (1720p, dual-core, LTE, 1620mAH) owners, how's the battery life in actual daily use for you? Maybe HTC has some new tricks to make their batteries last longer on their more recent phones. Press Releases after the break!
Update: I just noticed this morning that the Snapdragon S4 processors use the 28nm die size! That's very noteworthy because it means they should get better battery life than the any other CPU out there right now. I'm still not sure these devices could compete with a phone that has a 3300mAH battery but that 1800mAH may be plenty to keep you away from a power outlet all day. I think the S4's also have enhanced Adreno GPU's. The 220 was awesome and so anything newer could be pretty amazing and may even be faster than the Tegra 3 GPU - not sure but research it if you're interested.
---