Monday, October 17, 2011
Posted by Craig Horlacher in "Android News" @ 11:00 AM
"Available tomorrow to Rogers customers, the HTC Jetstream is the first HTC tablet running on the Android™ 3.1 (Honeycomb) operating system. Beyond blazing speeds, it also boasts a striking design, HTC Scribe™ digital ink technology and the latest in HTC Sense innovation - HTC's unique user experience that puts people at the centre."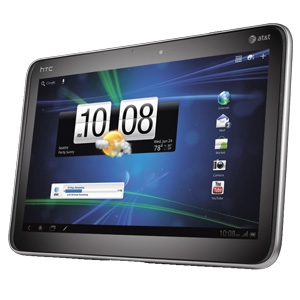 HTC and Rogers have officially announced the HTC Jetstream. This nicely loaded Honeycomb tablet will be available in Canada starting tomorrow for $500 on "select three year plans". As far as hardware goes, it has a 1.5GHz dual-core Snapdragon CPU, 10.1" 1280x800 Super LCD screen, 8MP rear camera, 1.3MP front camera, 1GB of RAM, 32GB of built-in storage and a MicroSDHC card slot. It supports Rogers gsm, HSPA, and LTE. One thing that I really like about it is the fact that it has a 7300mAH battery! That should give some descent battery life. One thing I'm not sure I like is the fact that it has some form of Sense on it and it only has Honeycomb 3.1, not the latest 3.2. While it supports the HTC Scribe stylus it will cost you an extra $80. Follow the "Read more" link to see the full press release.
The Jetstream looks like a very nice Android tablet. I would want to play with the interface a little before picking one up but I like the hardware HTC put in it! What are your thoughts on the HTC Jetstream? Will this be your next Android device?
---