Wednesday, April 20, 2011
Posted by Kevin Jackson in "Android Software" @ 08:00 AM
Pocket Legends (iOS/Android) will celebrate its One Year Anniversary by giving away all main premium areas starting today.
Cinco Loco explains:
http://www.youtube.com/watch?v=K8kQgEq_we8
New and existing players will get full access to:
Balefort

Castle

Fathom Crypts

The Lost Expedition

The Ancient Swamps

Balefort Sewers

The Alien Oasis Trilogy
These premium areas will remain free until Monday, May 4, 2011.
One Year Anniversary Fast Facts:
· Upwards of 3 million people have played Pocket Legends

· Pocket Legends is currently played in 200 countries

· Pocket Legends has been updated more than 200 times

· The technology backbone of Pocket Legends -- the Spacetime Engine -- took five years and 10 million dollars to build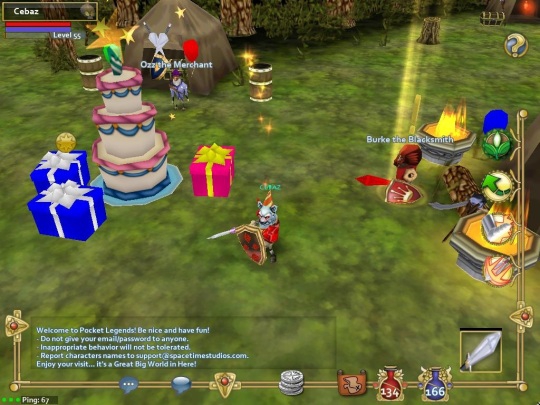 If you're one of the legion of Pocket Legends players, or if you've been sitting on the fence, there is good news from the world of Alterra. Starting now and running until May 4th all premium areas are free to both new and existing players. I haven't taken the plunge, yet, but this may be just the thing to get me to try it out.
Oh, and check out the video; it's a riot.
---