Friday, May 27, 2011
Posted by Anjuan Simmons in "Android Slates/Tablets & Accessories" @ 10:00 AM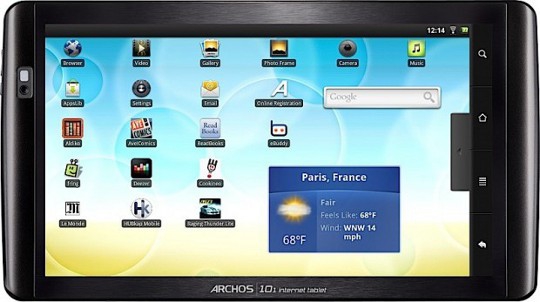 Product Category: Android Tablet
Manufacturer: Archos
Price: $299.99 (8 GB), $349.99 (16 GB)
Specifications: 10.5 inch 1024x600 Touchscreen, Android 2.2, Front-facing Camera (1.3 MP), 802.11 b/g/n, GPS, 8 GB Onboard Memory, Micro SD Card slot, 4,000 mA battery, 1.0 Ghz AP S5PC110 Processor, Bluetooth 2.1
Pros:
Large screen;
Multiple connectivity options (USB, micro-USB, HDMI);
Great battery life.
Cons:
Limited viewing angles;
Poor camera;
Has difficulty handling processor intensive apps.
Summary: The latest Android tablet from Archos offers a 10 inch screen, a panoply of ports (USB, Micro-USB, Mini-HDMI, and more), and enough battery life to get you through the day. However, it lacks the processing power of more expensive models and also has one or two fatal flaws such as a low resolution front-facing camera. Is the Archos worth the investment of your hard earned money, or should you wait for another entrant into the mid-range tablet field? Check out my review and see for yourself! Read more...
---