Sunday, May 29, 2011
Posted by Craig Horlacher in "Android Software" @ 06:00 PM
"What Distimo discovered this time is that, for a variety of reasons, Android generates far fewer runaway hits. The most successful app in the Android Market, with more than 50 million downloads, is a Google freebie: Google Maps. Nothing else comes close."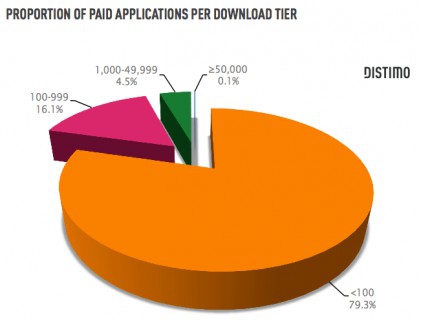 This is an interesting article about how developers in general seem to have a much harder time selling apps on the Android Market than the Apple App Store. I don't disagree with their general conclusion or even doubt the different statistics they present but I do think there are a few additional points to consider that I think are note worthy and valuable even it they don't necessarily change the whole picture.
First, Apple sells things at premium prices. Apple customers are used to paying and, often times, paying a lot for what they get. While one can argue that they are getting a premium product for the money the opposite can also be argued fairly easily I think. The bottom line here is Apple customers are often ready and willing to pay. Second, with iOS devices you have no choice of where to buy from. The Android Market is only one of many places to buy Android Apps. Stores like PlayAndroid.com, AppBrain.com, and the Amazon Appstore for Android are great examples of Android app stores that filter what they allow in their store keeping quality higher. Besides having less apps that are not worth your time this also provides some price competition as well as giving you other ways to find new apps. Third, I don't have good data to back this up but I think I have heard that advertisements in apps for Android are more developer friendly then they are on iOS. That could be some of the reason for the sales gap between the two platforms. Maybe programmers are happy with their ad revenue and Android. I heard a number of months ago that Rovio, the company behind Angry Birds, makes over $1,000,000 a month on advertising in Angry Birds for Android. Forth, there are benefits to the fact that anyone can create an app for Android and make it available to the consumer right away at no cost to them. Sure, you'll end up with some extra fluff that way but it also means that a developer won't need to jump through hoops to get out a critical update in a timely fashion.
I'd love to hear your thoughts on this topic. I would especially be interested to here from any developers out there.
---