Wednesday, March 7, 2012
Posted by Craig Horlacher in "Android News" @ 11:30 AM
"Google's content portal for Android apps, music, books and video content has been consolidated under a new name -- Google Play."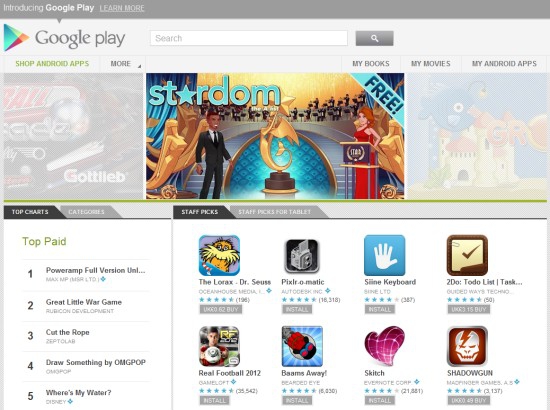 If you haven't gotten the update you probably will very soon. Google is pushing out a new version of the Market called the Play Store. They are also replacing your current Books, Music, and Movies apps with Play Books, Play Music, and Play Movies. I think this move makes a lot of sense rather than educating people that they can use the Android Market on the web with their Windows PC to buy books, music, and video. It's a good time to check for deals too. There are apps for $0.49 and lots of other discounts as well.
Here is one thing to watch out for if you have a Motorola device. This update will cause your Market link at the top right of your app drawer to stop working. Hopefully Motorola will fix this soon on many of their devices. It's not a huge deal since you can still launch the new store using the Play Store icon but it's annoying.
---