Tuesday, November 23, 2010
Posted by Don Tolson in "Android Articles, Resources & Developer" @ 08:00 AM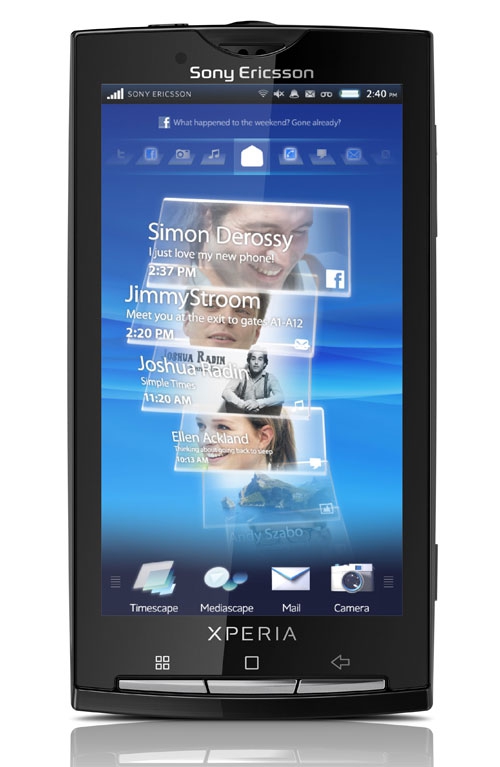 Product Category: Android Smartphone (non-keyboard)
Where to Buy: Expansys [affiliate] (unit tested is from Rogers in Canada)
Price: $499.95USD for an unlocked version.
System Requirements: Currently running Android v1.6. (2.1 upgrade is due by Dec. 2010)
Specifications: CPU - Qualcomm 8250 Snapdragon @ 1Ghz; Battery - 1500 mAh; Display - 4 in. (10.2 cm) 480x854 pixel TFT Capacitive touch 65K colours; Memory - 1G storage, 384M RAM, MicroSD card; Camera - 8mp, 16x zoom (digital), LED photo light; 802.11b/g; Quad-band GPRS; BT 2.1; 3.5mm audio; Accelerometer; Proximity Sensor; MicroUSB charging/sync connector; 119mm (4.7in) x 63mm (2.48in) x 13mm (0.51in); 135g (4.8oz).
Pros:
Big, bright screen;
Radios (cellular, BT, WiFi, and GPS) are very sensitive, very stable;
Rogers' version comes with a massive 16G microSD card.
Cons:
Volume is adequate, but lacks 'range';
Curious intraction between BT and GPS;
Way behind in Android updates -- still only at v1.6.
Summary:
The XPeria X10 from Sony Ericsson was big news about 6 or 7 months ago, and it's still the phone Rogers (here in Canada) touts as its 'high end' Android-based smartphone. We see new smartphones being introduced almost daily, especially in the Android space, so how does the X10 fare against the current crop of phones? And with the recent announcement of Windows Phone 7, how does it compare?
---